At a glance my art output seems to be a series of random acts of making, but there is always a progression and investigations into ideas of self-location are a recurring theme. I have always felt somewhat disjointed; wrong place, wrong comprehension, wrong me. I make work as a means of formulating myself and as a way to plug the holes in my identity. My making process is always ideas led. First the what, then the how.
So my arts practice is diverse. I produce prints, ceramics, collage, books, sewn pieces, paintings and other objects. However the mainstay of my practice is drawing, but drawing in its broadest sense, using scissors, needles, tin snips, fretsaw as well as pencil, ink, paint and clay. It is about making shapes and forming space within a line.
I am interested in the daily rituals of life and the relationship of the domestic environment with the outside world. I work from a home-based studio creating environments inspired by and referencing other artists, and literature. I am drawn to found materials, everyday detritus, that carries past associations and meaning.  My intervention and reappropriation of these found scraps is an elaboration and continuation of the narrative of these things.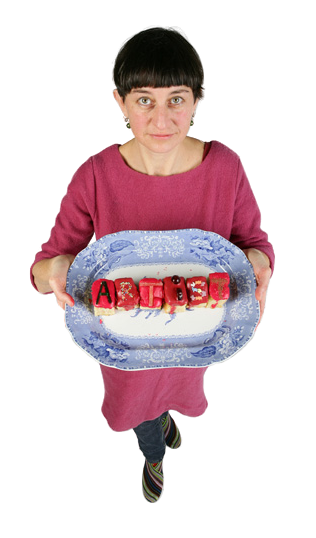 For me it is about the making, the process of printing, sewing, painting or whatever else I need to do to express myself. In doing that I hope I make objects and artefacts that have meaning for others, or are just nice to have (maybe like the Conversation Pieces mentioned in my essay, Why So'Bosch). An online shop is a slightly impersonal way to offer these for sale, so if you have any questions about the objects, the stories behind them, the process of making them or how to own them please send me an email.
If you are interested in buying a piece of my work please email to discuss delivery. Some items can easily go in the post, others may need insured postage or courier delivery, and some might be best be collected or hand delivered. Prices do not include P&P.
I have called this series of works relics. Relics are the fragmentary remains of something, objects that carry the memory of a valued event, action or person of importance. They are the lasting poignant memento that tells the tale. These objects or pictures may have sacred or religious meaning, conveying a strong sense of passion to the viewer.
I see a correlation between supporting sports and religious belief. Following a 'team' is a projection of hope, it requires faith that is often separate from facts and reality; it requires devotion. Supporters of a particular team can form a congregation of like-minded believers and may show fanaticism. Icons of saints and images of great sportsmen and women are meant to be inspirational and profound. They are about capturing a dramatic moment for posterity. They affirm the belief of the faithful. The power of the passion felt by a football fan, horseracing pundit or golf fanatic is both frightening and wonderful. Creating art also has an element of spirituality and drive.
'A Cake For Every Day' was my first foray into working outside the studio. The initial idea came from a book, 'The Everyday Cake Book - a recipe for every day of the year' which I was given by a chef friend. Printed in 1919 during paper rationing it is a no-frills compilation of 366 recipes (making an allowance for leap year). There is no consistency as to style and presentation. The order of the ingredients is random and the type size is tiny. The recipes give no guidance as to size or shape of tin and more infuriating, most do not specify a cooking temperature, "medium" is about as much information as one gets.
I wanted to explore the idea of cakes in relation to the everyday. Using 'cakes' as the conduit I wanted to look at what has changed since 1919 not only in relation to our skills and taste, but also routines. Women's roles in particular have changed dramatically, juggling home, family, work, community and their personal lives. Food gathering and preparation is a mixture of pleasure and necessity.
I selected cake recipes from the book that represented the rural, regional, religious, folk, and cultural meanings of the days over which the project ran, Shrove Tuesday to Easter Monday 2009. This project was embedded into a particular location, the bakery shop, and the customers were the audience.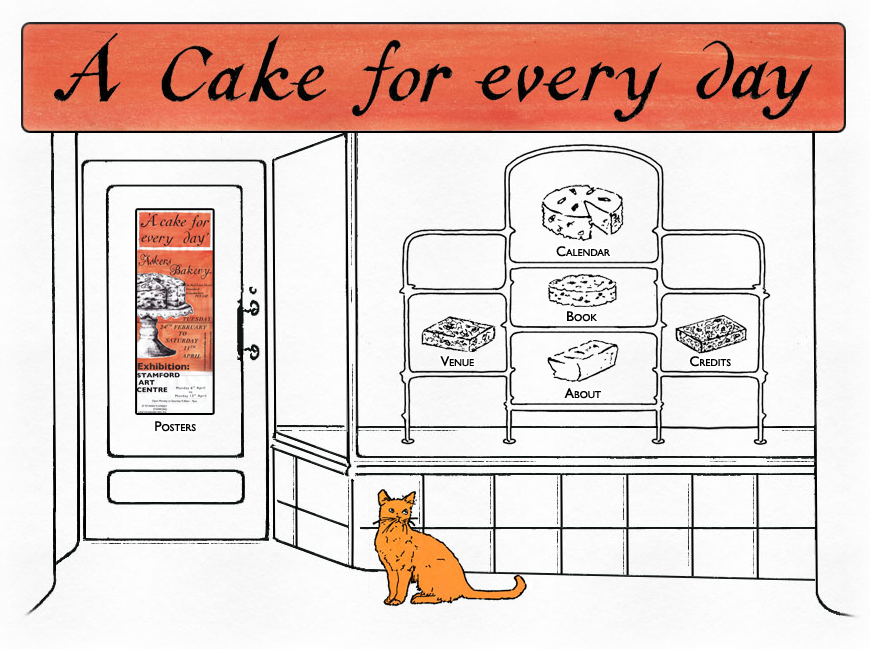 A yarn is a story of an incredible nature or length and a piece of thread spun from cotton or wool. I started to sew as a child. Sewing accompanied watching TV or being read to, so for me stories and pictures are intertwined with a needle and a thread. Historically needlework and craft are associated with women and the domestic environment so this is a natural link to my work and a source of ideas.
This series is based on the imagery of historical portrait paintings, and the pieces are made using metal cut from flattened-out printed tins such as olive-oil cans and fancy sardine tins. I re-draw and simplify the original image into a series of shapes, then select pieces of tin on the basis of colour and pattern and, using tin snips, cut out the required shape. These shapes are then riveted together to form a new portrait. Collage is the patching together of material to make a whole. It is said that we can read a face like a book, that it holds all of life within its features. Life is made up of a catalogue of events, people and places; the face is the coming together of those parts just as collage is a coming together of fragments. There is something intuitive about constructing a collage, selecting, shaping, and fitting. These works explore the spontaneity of assembling a collage versus the longevity of a face's features shaped over a lifetime. There is also something interesting about our skill in reading faces, and in how, despite abstraction, we can still discern something as a face.
For me, being an artist is about exploring, confirming and interpreting what I see and learning how to look. I have a constant need to make work and use still-life drawing and life classes to keep my eye in and to think through ideas.
I became fascinated by the different patterns on the inside of envelopes. Business envelopes use patterned and coloured interiors as a visual signal, so that it's clear when you have removed all the contents from the envelope. Most British envelopes use blue as the basic colour but something that might be standardised is in fact diverse. I like using this overlooked material that is usually aimed at the recycling bin. On a second look it reveals hidden gems: subtly different geometric patterns and hues of colour. I select each piece individually to represent leaves, flowers, skin, and fabric. I draw with the scissors and cut form in air.
In August 1979 the Sunday papers ran obituary articles for Lord Mountbatten, killed by an IRA bomb. One of these filled a double-page spread with an enlarged photograph of his campaign medals. I kept this image, intrigued by the idea that coloured ribbons were used as a visual language to represent places, dates, deeds, campaigns, rank, and our monarchy's pageantry.
Large-scale multi-coloured paintings of strips, targets and patterns also resonate meaning through form. Making it possible to see a connection between the language of paintings with that of military service. One expresses meaning through coloured paint applied to canvas, the other through the weaving of ribbons.
Synaesthesia is a cognitive ability to perceive something in another form, be it words, names or numbers. Some people connect names to a distinct smell, others see numbers or days of the week as a colour. The speed with which some people can answer a complex mathematical question is explained by their ability to picture each number as a separate entity and sums as threads of different-coloured beads.
These ideas of mapping life, things and events by colour and pattern all tie together. I made a series of works based on medal bars, including a set to represent my life. In 2006 I was commissioned to produce a set of 'life medals' to celebrate the subject's achievement of a PhD.
In the early 2000's the Art Council of England identify 13 distinct consumers groupings based on their participation, engagement or not with the arts called Arts Segmentation. I had these group labels made into embroidered patches. I am interested in ideas of division and categorisation of people and actions. 
I have written an essay called Badges of Honour, or Weapons of Compromise that you can read on my News, Essays and Exhibition Blurb page.
I use different printmaking methods depending on which best suits a particular project. From letterpress and lino, to lithography and silkscreen. I like printing. There are steps to follow, from making up of a screen, cutting of the block, transferring the image, the setting of the text, to inking up. Each process has its own distinct characteristics, its own rhythm, from the initial idea to the final pull of the print.
Some of my print works are stand-alone pieces, others are supplementary works, sketches almost, for on-going works in other mediums, such as my Bosch ceramics. What I like most is to play, experiment and investigate through making. All print techniques are ultimately only a means to an end; the idea is paramount for me.
In 2011 I was the lithography intern at Leicester Print Workshop. This involved a back to basics familiarization with the materials and possibilities of Stone Lithography. The year of study culminated in me printing small edition of a children's book, Night School for Cats. (Printing the Cat Book & The Story to the Cat Book Continues)
Strangely many of my forays into printmaking find me working in 3D or in film. The object maker in me is always attempting to make something beyond the flat plane. 
I have played with the paper peep show format, first making a diorama of the Stamford Mid-Lent Fair, and then an interpretation of the Sala Beckett theatre (Barcelona) in a box. Alongside the fold out printed peep theatre the latter also included a set of characters and a multiple pieces that could be slotted together to form a bigger entity.  (Sala Beckett Theatre)
I have worked with filmmakers based in Leicester on joint print and film projects and collaborated with other artists too. In 2019 I embarked on a project called PrintDance. This involved mapping the movements of five printmakers working andinteracting with the equipment at Leicester Print Workshop and resulted in a multi layered Perspex sculpture showing the shared areas, crossing routes, and overlapping processes and presses. I would very much like to develop this idea into a performance piece.
I print at Leicester Print Workshop, it has fantastic facilities and its staff and the members make it a delight to work there.
Here is a swan's tour of my home studio. The room has changed a little since this film was made, but what shows clearly is the clutter of images and materials I collect and squirrel away in an eclectic system until they are needed. 
I am interested in everything. Its use or reference may not be immediately obvious, but in selecting, shuffling and putting one thing with another thing it takes on a new lease of life as part of a piece of my art work. Luckily, most of the time I remember what I've got and can put my hands on it quite quickly, if not then the search always turns up other oddities of interest.
I find it hard to throw stuff away, so although I have had occasional culls, some of the items in this room have been stored and moved with over a long period of time. Always there is regret over the thing that one finally chucks away as the perfect use dawns on one the moment it's gone.
Hütte is a German word meaning hut, as in a simple shelter or building. Welcome to Hütte Press. Collecting, ordering, archiving are the ways I interact and consult with the world. Thus the narrative nature of a book, a means of filing, seems a natural direction for some of my ideas to lead.
Diaries, the keeping of a record of one's life, are the expression of feelings, of mood, the interpretation of situations, and recording of events. But my primary language is visual. I have a better memory for what something looks like, its colour and form, than I have for written names and factual data. I started keeping my scrap diaries as 2002 drew to an end. Surrounded by the drifts of paper, packaging, and cracker tit-bits from Christmas I was struck by the idea that a day can be conjured up by and contained within a single piece of ephemera. I have kept a scrap diary ever since. I construct the books from folded DL envelopes. Keeping these diaries has become a habit. And when I look back I can recall events, purchases, places, films, exhibitions and a particular day from those seemingly insignificant glued scraps. I also make extended holiday diaries with more than one entry per day.
Here you can see a selection of other works, much of it ceramic. For me, art is like rummaging in a cupboard full of memories; saved packaging, scraps of paper, text and art historical imagery from which I extract the starting blocks from which new work evolves. My work references and is inspired by things seen in museums and galleries, in the media and the built environment, from things found or acquired, or from what I have read or heard. I see connections, make leaps of imagination, cross contaminate and conflate things not usually conjoined. Art is about having the courage to see common things with uncommon eyes.
My work is a map of my life; much of it is about re-looking, remembering, and a kind of misunderstanding of reality. But it is also of the present. I think the most interesting work takes place between categories. I love detail and delight in colour, pattern and combinations, whether it is ceramics, printing, fabric, or jam. Or pyjamas. My studio is a laboratory for thought, reconfiguring the world into a new certainty. Everything that happens there is part of my everyday life.
My So'Bosch Ceramics came out of a sudden desire to make the Red Branched Tent found in the central panel of Hieronymus Bosch's painting The Garden of Earthly Delights. Since 2008 I have intermittently made more Bosch inspired pieces with the goal of creating an environment of Bosch objects. Bosch's painted world is a landscape of differing scales, and incorrect placement.  It is also a place of rich colour, of one thing standing in for another. And for confusion. You can read more about my So'Bosch work in an essay Why So'Bosch in News & Articles
In my interpretation of Billy Wilder's 1959 romantic comedy, Some Like It Hot, the transparency of film is exchanged for the solidity of ceramics. The handmade ceramic objects form a theatrical restaging where the physical thingness of the objects means they occupy space and become votive offerings that echo the themes of the film; love, friendship, hope, desire, ambition, the past, the future.
I find working with clay liberating. I love the push and pull of it as a medium, what I can imagine creating and what turns out is exciting. The disjuncture between it's mutability and it's own agenda in the kiln.
N
News, Essays & Exhibition Blurb
I call the pieces of writing found here Essays. The dictionary description of an essay is an attempt at something and a short non-fiction prose piece. There is no general theme or a coherence of subject matter in these pieces of writing, not even consistency of voice. I mumble and have dis-clarity of thought. In my head thoughts, disjuncture, sub-clauses, tangents and mis-comprehensions compete and clamour for attention and make writing strangely painful. Dyslexia and muddled train of thought make it hard for me to write. I worry about my written word and the mistakes I can make, but sometimes this is the best way to express an idea, think something through or mark the completion of a project. Writing can also bring me great satisfaction and wrestling with words can ultimately bring resolution to an idea.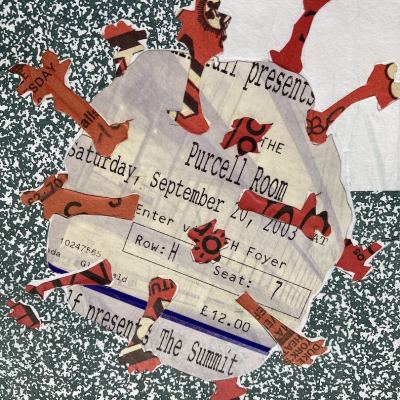 Fri 16th Jul 2021
In March 2020 an unprecedented global event overturned our lives. Plans, diary dates, work and home life were all turned upside down. My usual pattern of weekly life had been to spend at least two days in Leicester, making art at two studios there; Leicester Print Workshop and Bishopdale Adult Learning Hub ceramic studio. Since the arrival of the virus I have only been to the Print Workshop twice and have started to make ceramics in my home studio. I have bought clay and glazes and utilised kilns scattered across the east midlands (though I'm now having my home produced pieces fired back at Bishopdale).  
Along with every other person in the United Kingdom during the first lockdown I found myself at home. I am lucky; my house has studio space and a garden, I have an allotment, my children have grown and flown, my husband's work continued uninterrupted, albeit now from a table in our sitting room. But none of us have experienced such a sudden forced retreat into our domestic realm before. It has been very strange and, over a year on, it continues to be. 
The 2020-2021 pandemic affected and changed everything. We have been jolted out of what were the standard and expected ways of being and doing. The pandemic has provided an opportunity to revaluate work life balance and fundamentally reassess what we do with our life.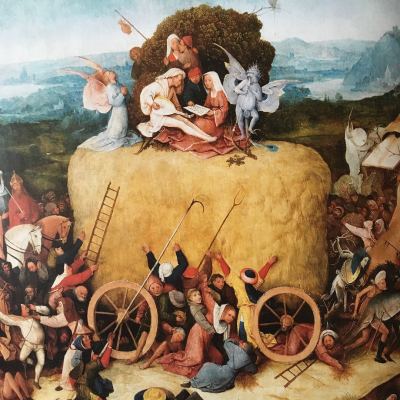 Tue 2nd Mar 2021
Three Hay Wagons
Intro:
This essay is about a triptych of hay wagon prints that I made in 2018, and showed last year at Willoughby Gallery, Corby Glen, as part of my So'Bosch exhibition. The essay will roam widely, from the original source of the three images, to my reasons for choosing hay wagons as the subject, to related yet divergent information. 
As part of my obsessional interest in Hieronymus Bosch I have looked repeatedly at his paintings and read countless books. When making my So'Bosch ceramic sculpture I scan his paintings for objects and forms, and it was whilst doing this that one painting in particular keep catching my attention due to its curious subject matter and intriguing format; The Hay Wain.
My work often makes reference to other artists and their work. Looking at art causes a form of cross-pollination to take place in my head and ideas for new work emerge. Part of the menagerie of current influences, alongside Bosch, is Pieter Bruegel the Elder and his two sons, Pieter Brueghel the Younger and Jan Brueghel the Elder. Whilst looking at Bruegel the Elder's Seasons of the Year series of paintings I spotted a hay wagon in the middle ground of Haymaking - Early Summer. Finding this second hay wain suggested the idea of making a triptych of hay wagon prints using the reduction lino process. Serendipity stepped in at this point, printed as a double page spread of The Guardian broadsheet in 2016 was an image of a hay truck on the N5 highway in Bangladesh.
There was something about the irrationality of scale in Bosch's The Hay Wain and The Guardian photograph, where the subject completely fills the picture plain, that I was after. I zoomed into the Bruegel painting, focussing only on the hay wagon, to make the threesome fit together.