N
News, Essays & Exhibition Blurb
I call the pieces of writing found here Essays. The dictionary description of an essay is an attempt at something and a short non-fiction prose piece. There is no general theme or a coherence of subject matter in these pieces of writing, not even consistency of voice. I mumble and have dis-clarity of thought. In my head thoughts, disjuncture, sub-clauses, tangents and mis-comprehensions compete and clamour for attention and make writing strangely painful. Dyslexia and muddled train of thought make it hard for me to write. I worry about my written word and the mistakes I can make, but sometimes this is the best way to express an idea, think something through or mark the completion of a project. Writing can also bring me great satisfaction and wrestling with words can ultimately bring resolution to an idea.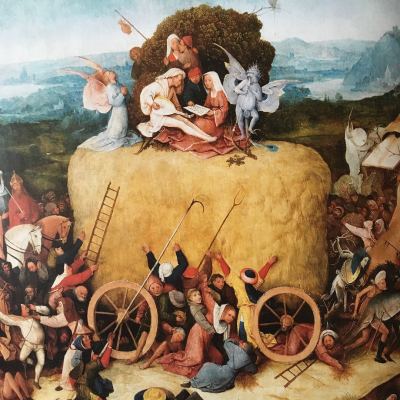 Tue 2nd Mar 2021
Three Hay Wagons
Intro:
This essay is about a triptych of hay wagon prints that I made in 2018, and showed last year at Willoughby Gallery, Corby Glen, as part of my So'Bosch exhibition. The essay will roam widely, from the original source of the three images, to my reasons for choosing hay wagons as the subject, to related yet divergent information. 
As part of my obsessional interest in Hieronymus Bosch I have looked repeatedly at his paintings and read countless books. When making my So'Bosch ceramic sculpture I scan his paintings for objects and forms, and it was whilst doing this that one painting in particular keep catching my attention due to its curious subject matter and intriguing format; The Hay Wain.
My work often makes reference to other artists and their work. Looking at art causes a form of cross-pollination to take place in my head and ideas for new work emerge. Part of the menagerie of current influences, alongside Bosch, is Pieter Bruegel the Elder and his two sons, Pieter Brueghel the Younger and Jan Brueghel the Elder. Whilst looking at Bruegel the Elder's Seasons of the Year series of paintings I spotted a hay wagon in the middle ground of Haymaking - Early Summer. Finding this second hay wain suggested the idea of making a triptych of hay wagon prints using the reduction lino process. Serendipity stepped in at this point, printed as a double page spread of The Guardian broadsheet in 2016 was an image of a hay truck on the N5 highway in Bangladesh.
There was something about the irrationality of scale in Bosch's The Hay Wain and The Guardian photograph, where the subject completely fills the picture plain, that I was after. I zoomed into the Bruegel painting, focussing only on the hay wagon, to make the threesome fit together.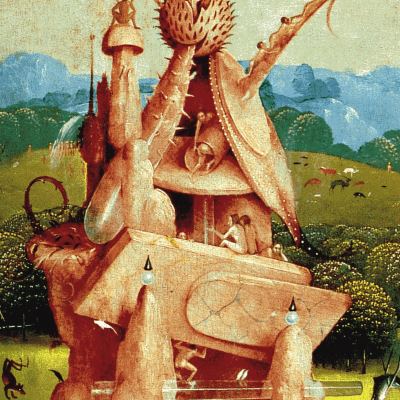 Thu 30th Jul 2020
Wednesday 19th August to Wednesday 16th September 2020
The Willoughby Memorial Trust Gallery
Moreleys Lane, Corby Glen, Grantham, Lincolnshire NG33 4NL
Open 12pm to 5pm Tuesday to Sunday - Closed Mondays except Bank Holidays